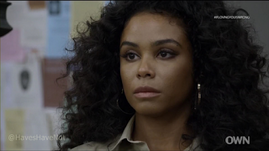 Claudia is the new addition to the police department, and happens to have a crush on Pete. It later stated she is an undercover agent along with Lushion looking into Eddie's former partners. Later on, it is revealed she is the daughter of Julius, Sr. and his mistress thereby making her the half-sister of Julius. She is also the half-sister of Quan
Ad blocker interference detected!
Wikia is a free-to-use site that makes money from advertising. We have a modified experience for viewers using ad blockers

Wikia is not accessible if you've made further modifications. Remove the custom ad blocker rule(s) and the page will load as expected.